A look at the progress and successes of the BCcampus Professional Cook Gap Training project; a collaborative endeavour that began as a proof of concept, developed into a pilot project, and quickly became a fully operational gap-training program. The resulting central learning resource is available not only to certification challengers, but to the broader Professional Cook community, including instructors, employers, and apprentices.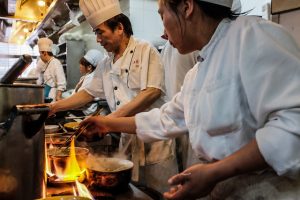 In 2013, BCcampus and go2HR collaboratively applied an approach to address gap training in the Professional Cook trade using a Competency-Based Education (CBE) model, enabling learners to acquire the skills and knowledge required to operate safely and effectively within their chosen profession. What started as a six-week pilot project to test an online, competency-based education model for gap training in the Professional Cook Program has evolved into a successful central learning resource that links competencies to learning material, providing a sustainable solution to the challenge of accurately assessing the skill level of a developing professional, while maintaining the flexibility to adapt to changing competencies and learner needs. By linking learning material in existing Professional Cook curriculum to separate, specific competencies, it was possible to develop an approach that enabled learners to focus on the skills they needed without spending as much time relearning skills they'd already demonstrated proficiently.
Many of the key components of the central learning resource already exist in the system. The competency frameworks maintained by the Industry Training Authority have a direct relationship to existing curriculum with a B.C. Commons license attributed to Jennifer Stein, Gilbert Noussitou, and Meghan Moore at Camosun College. During the project, additional content contributions came from College of the Rockies' Tim Curnow and Dennis Green of go2HR.
As of April 2015, highlights of the Professional Cook Gap Training Program include:
Enrolment of more than 1100 users in the Professional Cook trade central learning resource designed and piloted in 2013. The current active users include approximately 100 instructors, 100 challengers, and 600 apprentices.
A research process to better understand the impact of the platform in supporting learners completing Professional Cook certification. go2HR is working with a researcher to capture and analyze learner data from 2014-2015. The researcher will look at nearly 300 learners, the apprentices and challengers who have used the platform, to gather information about their platform use, certification exam experience, and exam history compared to those who have not used the platform prior to writing the certification exam.
Working with the BCcampus Open Textbook project, Dennis Green of go2HR and Gilbert Noussitou, Chair of Culinary Arts at Camosun College, along with 12 other instructors, updated an exam bank and this open resource will soon be used to update all exams in the platform.
At BCcampus, we work on behalf of partners in the post-secondary education system in B.C., addressing challenges together through collaborative innovation. "Our role is to explore, research and pilot pedagogical approaches enabled by educational technology with the goal of turning over the operation to a local collaborative agent who can continue to sustain it. go2HR has taken the lead on the initial operational phase of the project, and BCcampus will continue to support them as they focus on sharing the resource with stakeholders in this trade while exploring a long-term home for the resource," shared Michelle Glubke, BCcampus Manager, Collaborative Services.
What's in store for the future?
Over the next six months, Dennis Green, Director of Industry Workforce Development at go2HR, will work with the post-secondary education Cook articulation committee (consisting of the instructors in the Professional Cook program), Deans of trades and technology, and the Industry Training Authority to explore options for the long-term sustainability of the platform. The Competency to Credential approach used in the Professional Cook Gap Training project paid special attention to a scalable and feasible open source solution which will ideally make finding a permanent home for the central learning resource easier.
This article is part three of a three-part series looking at the competency-based education delivery model, Competency to Credential, developed by BCcampus. See part one and two.
Notable Quotes
"Our role in the system is the upfront exploration, research and piloting of an approach to solve a challenge. This typically includes the use of open source products, open educational resources and leveraging existing expertise. We refer to what we do as collaborative innovation. In practice it means trying something new together." ~Michelle Glubke, BCcampus Manager, Collaborative Services
Learn More