Before we get into the announcement of the Self-Publishing Guide, we need to let you know about a name change within BCcampus.
What's in a name?
Many of you may have noticed a shift in our language and it's because we have recently changed the name of the B.C. Open Textbook Project to BCcampus Open Education to represent our commitment to open practices as a whole. In time, all textbook and guide covers will reflect this name change, but right now the Self-Publishing Guide cover still uses the old name as a lead to the guide's name. Regardless, moving forward and within the guide itself, we refer to it as the BCcampus Open Education Self-Publishing Guide.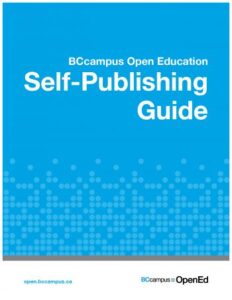 Post by BCcampus' editorial team
Much has happened since then.
An increasing number of faculty and staff are writing open textbooks, creating a growing demand for a resource that will guide authors through not just the textbook-writing process, but also the many steps needed to carry a textbook — an openly licensed textbook with its own unique requirements — to completion. Some authors are fortunate to have the backing of an academic press or open textbook publisher. For authors who do not have this support, Lauri Aesoph, Manager of Open Education at BCcampus, has written this Self-Publishing Guide, backed by the copy-editing expertise of Open Education Production Assistant, Josie Gray.
The BCcampus Open Education Self-Publishing Guide is a practical reference for writing and publishing an open textbook. This guide provides details on the preparation, planning, writing, and publishing of an open textbook as well as the importance of copy editing and proofreading. Copyright, open copyright licenses, and the differences between citation and attribution are discussed.
Most of us don't have a publishing background, so we are offering what we have learned throughout the process as common-sense tips to get the job done, in a realistic fashion. Using the BCcampus Open Education Authoring Guide as a framework, all of the internal processes used and experiences gathered by BCcampus Open Education project managers during the first phases of the B.C. Open Textbook Project have been added. Sections about the adaptation and adoption of open textbooks and how to use Pressbooks have been removed and added to separate guides.
The guide aims to serve as a model of best practices for the self-published open textbooks it describes. For example:
The guide has been reviewed by subject-matter experts.
It has undergone thorough copy editing and proofreading.
A style sheet created during the copy editing and proofreading phases of its creation is included.
The material is appropriately cited or attributed throughout.
Accessibility guidelines have been followed
Keywords have been set in bold throughout the guide and are listed alphabetically in a Glossary at the end of the book.
Sample templates are provided for items ranging from contracts to project checklists. 
Topics covered in the Self-Publishing Guide
This guide was arranged into sections that take the open-textbook author through the following steps of the writing and publishing process. At the end of each section, look for links to related chapters in the Open Textbook Network's publication: Authoring Open Textbooks.
Look Before You Write
In this first section, would-be authors are presented with the challenges of writing and publishing a textbook and the unique characteristics of a book that is openly licensed.
Prepare to Write
This part lays out issues that should be considered and addressed before starting an open textbook publishing project.
Plan Your Book
This list of topics will help you create a comprehensive plan for your textbook.
Write… and More
This section discusses the many facets of the open textbook writing and creation process.
Edit and Review
The hallmarks of a quality textbook — peer review, copy editing, and proofreading — are covered in this section.
Pre-publication
These are the final tasks to complete before publication, including setting up a communications plan.
Post-publication
Once your textbook has been launched, look to these suggestions to help track usage and maintain a high-quality textbook.
This guide will stand as BCcampus Open Education's central support open textbook resource. Our other instructional guides (listed below) complement this main work. During the next year, work will be done to create clear links between all guides.
Notable quote:
"It's been gratifying during the past six months to create a resource that, I think, the open education community has needed for a long time. As more and more faculty decide to write open textbooks, I've come to realize that they don't just need an authoring guide — because they're not just writing — they need a guide on self-publishing. I'm often asked by colleagues how we managed our open textbook creations. It feels great to finally share all of the lessons learned and processes developed by our open education team." – Lauri Aesoph, Manager, Open Education, BCcampus
 Learn more:
---
Join us for an upcoming event:
---
To stay informed with BCcampus by signing up for our newsletter, visiting our calendar and following @BCcampus on Twitter.