We are incredibly pleased to announce the newest winner of the Award for Excellence in Open Education: Cindy Underhill. Please join us in congratulating Cindy Underhill, University of British Columbia (UBC), on being the 10th recipient of the Award for Excellence in Open Education. Previous honourees include Michael Paskevicius, Maja Krzic, Grant Potter, Irwin DeVries, Tara Robertson, Christina Hendricks, Tannis Morgan, Inba Kehoe, and Diane Purvey.
Nominated by Brian Lamb, Director of Learning Technology and Innovation, Thompson Rivers University and kele fleming, Associate Director, Teaching and Learning Professional Development, University of British Columbia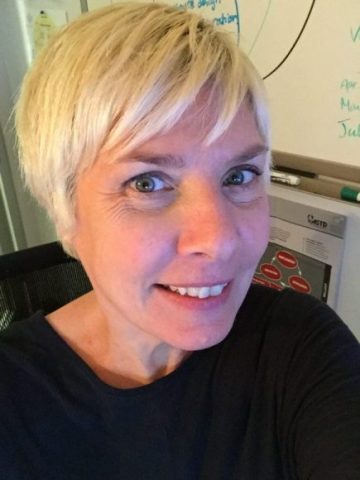 Cindy Underhill has embodied open education practice in every respect. She has been critical to the inspiration and implementation of highly impactful projects, each of which has modelled passionate, ethical goals as well as innovative and sustainable approaches. Anyone who has worked with Cindy knows of her unwavering commitment to students, inclusivity, and design thinking. She leads from all angles, including at times from the margins, and has been a mentor to countless peers.
A few words from colleagues Cindy mentored and worked with speak volumes of her open, inclusive, and creative approach. Zack Lee comments on her commitment to learners, stating "She was the first person to really argue for the differences between learning and instructional design. Instead of asking how a person can do a particular exercise an instructor wants, learning design values how somebody will actually learn … If there's something I wanted to try or learn, just do it … I could start small, explore, and see how people respond. She understood how people need to see something tangible and the process of experimenting is the process of getting everyone on-board, involved, and bought-in." Will Engle touches on the values Cindy brings into her work: "Most importantly, she embeds a strong and critical value of empathy for the student experience within all of her projects. This value of student empathy is also a deep part of her strategic leadership, critique, and advocacy which I would argue has greatly informed the work that her colleagues, such as myself, do as well as the efforts of the CTLT and UBC more broadly."
Cindy Underhill has led, or been a critical contributor to, countless impressive projects, many of which have had a significant impact beyond the University of British Columbia. There are certain unmistakable signature elements to Cindy's work: a clear focus on the needs of learners, careful design, and the effective application of open educational principles in approach, technology, and presentation.
Some of her most notable achievements include:
In partnership with the Library, the IKBLC, and Student Development, the Learning Commons was created to provide support programs and services for student learning.
Years before "fake news" was in the headlines, Cindy took the initiative to develop a student-authored resource for safe, ethical, critically-engaged online practice known as Digital Tattoo. It remains one of the most impressive and useful digital literacy sites for education and is used widely at and beyond UBC.
Formation of a community of practice around Open at UBC and a key voice in the development of "Open Learning Design: A (draft) Manifesto", which articulated the principles for open educational practice moving forward.
Key contributor to the design & delivery of many professional sessions, programs, and open resources at UBC, including DIY Media, Design Your Life, and Teaching with WordPress.
Please join us in congratulating Cindy on winning this award and for her incredible contributions to open education.
Notable quote:
"BCcampus Open Education is delighted to award Cindy Underhill for her contribution to open education in British Columbia. Cindy's work at UBC has transformed the student experience for many. Before the term "open pedagogy" was coined, Cindy was a leader in this field – enabling students to be contributors of knowledge and opening their work to the world. Congratulations, Cindy!" ~ Amanda Coolidge, Senior Manager, Open Education, BCcampus
Learn more: