When:
February 16, 2023 @ 9:00 am – 10:00 am
2023-02-16T09:00:00-08:00
2023-02-16T10:00:00-08:00
*Note: This session has passed. Please view the resources and recordings below.
Session Description:
But I Am Not An Artist: Arts-Based Research In the Social Sciences and Humanities
Throughout history art-making has been an instrument of knowledge creation and dissemination, whether making marks on the world or simply creating aesthetic interventions that signal a person, object, artifact, action, event, or phenomenon as uniquely valuable, sacred, or life-sustaining. Art is how members of every society and civilization render visual narratives of things cherished and tales often remembered. This is because art tells stories, reflects realities, and inspires alternative dreams. Art brings joy and happiness, but it can also disrupt and astonish us.
Pause! Can you imagine a world without the arts? What if we could use the arts to tackle social phenomena such as inequalities and social and environmental injustices? What if we could use the arts for teaching and learning and as a research practice in the social sciences? Arts-based research is a participatory research practice that connects embodied visual literacy to more traditional academic research practices in social sciences, through which art forms are used to generate, interpret, or communicate research knowledge. Arts-based research is for educators, practitioners, non-professional trained artists, policymakers, community leaders, and social scientists.
Using the field of informal education as our territory for exploration, this lecture will introduce you to contemporary discourses on arts-based research by showing you concrete examples from Brazil, South Africa, and Jordan.
In this session we will answer the following questions:
Where do I start?
What do I need?
What does it look like?
How does art become data?
Facilitator: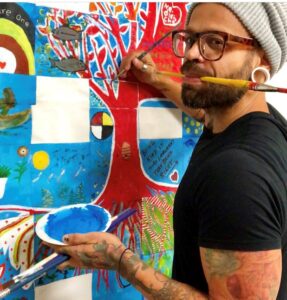 Bruno de Oliveira Jayme, PhD, is a long story: a queer activist, an arts animator, and a critical educator. He is becoming an artist everyday through his connections, interconnections, and misconnections in the worlds. He thinks he is a verb. The dirty streets of São Paulo, the uncomfortable comfortable Canadian life, and the politics of social movements in Latin America inform Bruno's art education practices. He has a funny accent from the same place he was born and raised, Brasil (with s). Bruno is an assistant professor in the Faculty of Education at the University of Manitoba. He works at the edge of "What's next?" Arts–based research, community museums, community art, critical pedagogy, and transformative learning are the things that make him alive. Following John Dewey, Bruno cannot imagine social change without the arts, because the arts surface stories that have been untold, under-told, wrongly told, and suppressed through colonization. His teaching and research are informed by, constructed on, and mediated through the arts in a post-modern sense. Can you imagine a world without the arts?
More About This Series:
BCcampus is happy to be hosting a spring 2023 Research Speaker Series that offers all BCcampus research fellows and scholars across post-secondary institutions in B.C. an opportunity to learn and share your knowledge and advocacy on research methods, approaches, and pedagogies regarding accessibility; access; equity, diversity, and inclusion (EDI); and Indigenous engagement in teaching and learning. These livestream webinars, which typically take place on Thursdays once every three weeks, allow you to hear about new research directly from researchers involved and give you a chance to ask questions about the meaning and interpretation of their findings. If you are unable to attend, recorded webinars of presentations will be made available within a week of the event.
What you'll take away:
Broaden your knowledge and research skills/capacity in the B.C. post-secondary context.
Learn more about research, Indigenizing research, EDI in research, decolonizing research, and accessibility.
Be inspired to participate in research communities of practice or explore the themes in your studies or work.
Connect with academics and community members who share your interests.
Other events in this series:
Archives: