It is our pleasure to announce the newest winner of the Award for Excellence in Open Education: Rajiv Jhangiani. Please join us in congratulating Rajiv Jhangiani, Kwantlen Polytechnic University (KPU), on being the 10th recipient of the Award for Excellence in Open Education. Previous honourees include Cindy Underhill, Michael Paskevicius, Maja Krzic, Grant Potter, Irwin DeVries, Tara Robertson, Christina Hendricks, Tannis Morgan, Inba Kehoe, and Diane Purvey
Nominated by Farhad Dastur, faculty member, Kwantlen Polytechnic University and Dr. Sal Ferreras, Provost and Vice-President, Academic of Kwantlen Polytechnic University.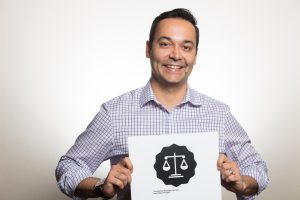 Dr. Rajiv Jhangiani is a leader in the open education movement. He has shown vision, initiative, courage, and tenacity in his comprehensive efforts to advance the philosophy, acceptance, and practice of open education at his home institution, province, country, and beyond. As an innovator, he constantly strives to expand students' access to learning. As an educator, he provides colleagues with the tools needed to enhance course content to help students learn. Within a short time, Rajiv has made outstanding contributions to the open education community while demonstrating strong leadership within Kwantlen Polytechnic University (KPU) and the larger community.
Through his work with BCcampus and KPU's ground-breaking Zed Cred/Z-Degree initiative, Rajiv has established himself as a leading player in B.C.'s open textbook initiative. He is at the forefront in the global movement towards building a new, collaborative model for publishing open textbooks and has positioned KPU as the leading institutional adopter of open educational resources in Canada. Setting his sights higher, he has developed a strategic framework to position the university as a global leader in open education. Rajiv's greatest strength is as a thought-leader with a deep sense of social justice that is evident in his desire to expand open education resources.
As a University Teaching Fellow in Open Studies and a Psychology Professor at KPU, Rajiv works tirelessly to remove barriers so that his colleagues can participate in the open education movement and so that students can have more accessible and free learning resources. He is currently seconded as a Special Advisor to the Provost on Open Education, is Associate Editor of Psychology Learning & Teaching, and is an Ambassador for the Center for Open Science. Previously, Rajiv served as Senior Open Education Research and Advocacy Fellow at BCcampus and was an OER Research Fellow with the Open Education Group with the Open Textbook Network.
Some of his most notable achievements (linked below) include:
Architect of Canada's first Zed Cred degrees (i.e. zero textbook cost) at KPU—a Certificate in Arts (2017) and an Adult Graduation diploma (2018)
Co-editor, with Robert Biswas-Diener, of the 2017 book, "Open: The Philosophy and Practices that are Revolutionizing Education and Science."
Ambassador for the Center for Open Science
Co-director of the Open Pedagogy Notebook
OER Research Fellow, Open Education Group (2015-16)
Senior Open Education Research & Advocacy Fellow with BCcampus (2017)
Faculty Fellow, Open Textbook Project, BCcampus (2014-2015)
Please join us in congratulating Rajiv on winning this award and for his incredible contributions to open education.
Learn more: