When:
February 22, 2023 @ 8:30 am – 3:30 pm
2023-02-22T08:30:00-08:00
2023-02-22T15:30:00-08:00
*Note: This session has passed. Please view the resources and recordings below.
Learn about competencies, one of the core components of micro-credentials, from experts in the field. Keynote speaker Lena Patterson from Toronto Metropolitan University will explore why competencies are at the core of micro-credentials. International competency expert Dennis Green will describe what competencies are, including how to write competency statements and how to build competency frameworks. In addition, panelists from two institutions and their industry partners (including employers) will share how they worked together to identify and meet competency needs, how learning design is impacted by a competency-based approach, and how micro-credentials are recognized by employers. Engage in interactive exercises throughout the day and get to the core of micro-credentials in B.C.
Schedule
| | |
| --- | --- |
| Welcome and acknowledgements | 8:30 am – 9:00 am |
| Dr. Lena Patterson: Why are competencies are at the core of micro-credentials? | 9:00 am – 9:45 am |
| Questions | 9:45 am – 10:00 am |
| Break | 10:00 am – 10:15 am |
| Interactive Exercise | 10:15 am – 10:50 am |
| Dennis Green: What are competencies and competency frameworks? | 10:50 am – 11:50 am |
| Questions | 11:50 am – 12:00 pm |
| Lunch | 12:00 pm – 1:00 pm |
| Panel 1: How did Vancouver Community College and the creative technology industry work together to create a competency based micro-credential? How was the micro-credential recognized by employer Industrial Light & Magic? | 1:00 pm – 2:00 pm |
| Questions | 2:00 pm – 2:15 pm |
| Panel 2: How did British Columbia Institute of Technology and the construction industry work together to create a competency-based micro-credential? How was it recognized by employers? | 2:15 pm – 3:00 pm |
| Questions | 3:00 pm – 3:15 pm |
| Review and conclusion | 3:15 pm – 3:30 pm |
Micro-Credentials: Competency at the Core is an online event over Zoom on Wednesday, February 22, 2023, 8:30 a.m.– 3:30 p.m. PT.
Keynote Speaker
Lena Patterson, MA, EdD
Lena (she/her) is the program director of Micro-credentials and Business Development at the Chang School of Continuing Education at Toronto Metropolitan University, where she serves continuing education learners through competency-based assessment and recognition carried out through a newly established micro-credential strategy and portfolio. She has 11 years of experience in higher education and non-profit leadership focused on open education, online and technology-enabled teaching and learning, education and industry pathways, and micro-credentials.
Prior to joining the Chang School, Lena was senior director of programs and stakeholder relations at eCampusOntario, where she led the design and implementation of the eCampusOntario Micro-credential Principles and Framework and popularized the framework for system application through pilot funding, research, and community engagement. She co-authored a series of discussion papers on the topic, including "Is the Future Micro? Unbundling Learning for Access and Flexibility."
In the fall of 2021 Lena completed her doctorate at Western University in educational leadership with an emphasis on non-profit leadership and ambidextrous learning organizations. She is the proud president of the board at Open Education Global, co-president of the Ontario Council for University Lifelong Learning, and co-founder of Microcredentials Sans Frontières, an open international network dedicated to cultivating a deeper understanding of the design, development, delivery, and effectiveness of micro-credential opportunities across the learning lifespan.
Dennis Green
Dennis (he/him) founded South Arm Training and Development in 2019 after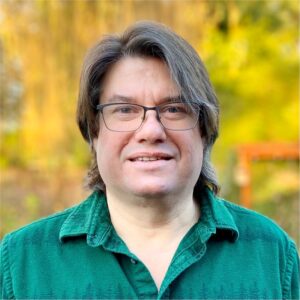 30 years of working in the tourism and hospitality industry in both operational and strategic workforce development roles. He's passionate about the intersection of work, technology, and learning. Since forming South Arm Training and Development, he has focused on competency framework development, prior skill recognition, and training and certification strategies with organizations across Canada and internationally.
Dennis is co-author of the eCampusOntario Open Competency Toolkit and has over 15 years of experience developing competency-based standards, training, and assessment approaches across a wide range of organizations and industries. He recently acted as the lead technical editor and member of the executive committee for the Institute of Electrical and Electronics Engineers Standards Association's Recommended Practices for Competency Development standard and continues to collaborate with international experts on competency development and competency-based education.
Archives: