When:
February 3, 2021 @ 1:30 pm – 3:30 pm
2021-02-03T13:30:00-08:00
2021-02-03T15:30:00-08:00
Our Thriving Beyond Campuses series has provided opportunities for faculty members, health promotion staff, and instructional support staff to gather virtually and consider how to promote mental health and well-being in learning environments.
Institutions of higher learning across Canada are working toward comprehensive whole-campus approaches to enhancing health and well-being. The Okanagan Charter [PDF] calls on universities and colleges to embed health in all aspects of campus culture, administration, operations, and academic mandates, as well as to lead health promotion more broadly.
The final session of the dialogue series will involve a panel of change agents who will discuss their observations of systemic changes that support well-being in learning environments. Concepts, factors, and initiatives related to systemic changes that enable well-being in learning environments will be discussed.
Hosts
Diana Jung is an experienced health promotion specialist with health promotion and education at the University of British Columbia Vancouver campus. Diana engages and partners with staff, faculty, and student leaders to build the capacity of the campus community and embed health as a priority in all areas of campus. Over the last eight years, she has provided leadership in a series of research projects on student mental health and well-being in learning environments. As a student affairs professional, Diana is experienced in facilitating learning opportunities for students through guidance and program development. She takes a strengths-based approach to fostering student mental health and is passionate about diversity and inclusion in higher education. Diana holds a Master of Arts in community psychology and a Master of Arts in counselling psychology.
Russell Thomson is a health promotion strategist at Simon Fraser University. Having recently joined the health and counselling department, he is contributing to the SFU Well-being in Learning Environments initiative, working with the Student Health Advisory Committee and leading the graduate student well-being project. He is passionate about contributing to student well-being, with over five years' experience in the post-secondary sector. While working at the University of Calgary, Russell contributed to the Campus Mental Health Strategy for students, faculty, and staff. Russell's interests include mental health literacy, physical literacy, and stigma reduction. He is an experienced facilitator and a certified Inquiring Mind and Working Mind Trainer from the Mental Health Commission of Canada.
Moderator
Jonny Morris is the CEO of the B.C. Division of the Canadian Mental Health Association (CMHA). He left CMHA for two years to work within the public service for the Ministry of Mental Health and Addictions, where he played a key role in helping build this new ministry from the ground up, eventually leading the policy and legislation branch as senior director. In this role, Jonny was responsible for providing advice on a range of complex policy and legislative initiatives while leading several transformational mental health and addictions programs.
In his past role at CMHA, Jonny provided leadership for provincial mental health and substance use operations through the association's provincial office and the branch network across British Columbia. His work focused on addressing systemic disparities between physical and mental health, campus mental health, the criminal justice system, systems transformation, policy, and government relations.
Jonny has a long research and practice history in suicide prevention, has trained as a counsellor, and has held teaching appointments at the University of Victoria and Douglas College in child and youth care. He earned both his Bachelor of Child and Youth Care and his Master of Arts in child and youth care from the University of Victoria.
Panelists
Alicia Hibbert is Métis through her mom's side and was born in Treaty 1 territory. Alicia was raised and built relationships in Treaty 6 territory, where she worked in collaboration with Indigenous communities on resilience-based programs for more than nine years. Since 2019, Alicia has been a guest living and working with gratitude on the traditional, ancestral, unceded territory of the šxʷməθkʷəy̓əmaɁɬ təməxʷ (Musqueam), səl̓ilwətaɁɬ təməxʷ (Tsleil-Waututh), and skwxwú7mesh-ulh Temíx̱w (Squamish). She values working relationally and with reciprocity and is passionate about individual, workplace, and community well-being. Alicia believes we can best achieve these through systemic changes and focuses on the faculty and staff side of systems change in her work with UBC human resources. In her role, Alicia is an agile project manager and has an MA in anthropology and humanities computing and a CAPM (Certified Associate in Project Management) accreditation.
Paola Ardiles is a practitioner scholar who has been recognized for her innovative, collaborative, and inter-sectoral approaches in health promotion research, policy, practice, and education. She is a faculty teaching fellow and lecturer in the faculty of health sciences at Simon Fraser University.
Paola is the founder of Bridge for Health, a local and global self-organized network promoting public engagement and community health. In 2016, Bridge for Health became a cooperative association with the mission to advance social innovation as it relates to health equity. Bridge for Health received SFU's 2017 Coast Capital Savings Venture Prize for Social Impact for its efforts to advance well-being practices in the workplace.
Paola is the co-designer of the Health Change Lab at SFU Surrey in partnership with RADIUS Social Innovation Hub, based out of the Beedie School of Business. The Health Change Lab is an experiential program to help students identify community health challenges and co-design innovative and entrepreneurial solutions.
Paola holds a Master of Health Science in health promotion, a Master of Business Administration, and diplomas in global health diplomacy and investment for health: integrating health in all policies. She is currently finishing her doctoral studies investigating social innovation and equity-centred approaches to promoting community health.
Rosie Dhaliwal is part of SFU's equity, diversity, and inclusion (EDI) leadership team, working to create inclusive systems, processes, and culture. In her role as EDI specialist for human resources, she develops and facilitates best practices, programs. and services in the area of equity, diversity, and inclusion and oversees compliance with applicable policies. She works collaboratively to provide comprehensive education and awareness training for members of the university community.
Rosie holds a Master of Education in curriculum and instruction with a lens on cultural competency. Rosie has authored and co-authored a number of publications and is pursuing a doctoral degree within SFU's faculty of education.
She made significant contributions to the award-winning SFU Healthy Campus Community Initiative and is also currently a sessional instructor in the faculty of arts and social sciences. Rosie is a strong advocate for inclusion and is passionate about creating a vibrant learning community for students.
Dr. Susan Porter is the dean and vice-provost of graduate and postdoctoral studies at the University of British Columbia, as well as a clinical professor in pathology and laboratory medicine. She is also the former president of the Canadian Association for Graduate Studies and a member of the Council of Graduate Studies / Jed Foundation Advisory Committee on Graduate Student Mental Health and Wellbeing. Using the Okanagan Charter as a roadmap and recognizing the distinctive issues faced by graduate students, Dean Porter and her team work collaboratively to implement the graduate student–specific well-being strategy that was developed in 2017. UBC's graduate school also recognizes that culture, practices, pedagogies, and support structures in the graduate enterprise are critical to well-being and consistently works to improve these.
Dr. Maureen Wideman is associate vice-president of teaching and learning at the University of the Fraser Valley. She is considered an expert in the field of curriculum design, accessible learning, and academic integrity. She has decades of experience assisting faculty in their growth as teaching professionals. Her depth of experience in digital pedagogy has been put to the test over the last year, as she has led and supported the university in its pivot to online learning.
This event is free. To ensure we have an inclusive and welcoming environment for all, we've added registration to our online office sessions.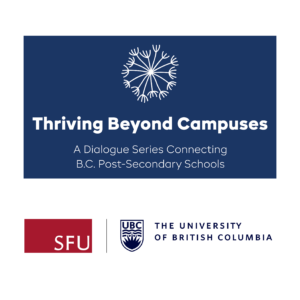 This notice is to inform you that this session will be recorded, archived, and made available publicly on covid19.bccampus.ca. By participating in this session, you acknowledge that your participation in this session will be recorded and the recording will be made available openly.