It is our pleasure to announce the newest winner of the Award for Excellence in Open Education: Erin Fields. Please join us in congratulating Erin Fields, University of British Columbia (UBC), on being the 11th recipient of the Award for Excellence in Open Education. Previous honourees include Rajiv Jhangiani, Cindy Underhill, Michael Paskevicius, Maja Krzic, Grant Potter, Irwin DeVries, Tara Robertson, Christina Hendricks, Tannis Morgan, Inba Kehoe, and Diane Purvey.
Post by Tannis Morgan, Researcher, Open Education, BCcampus, Director of the Centre for Teaching, Learning & Innovation at the Justice Institute of British Columbia (JIBC) (on secondment)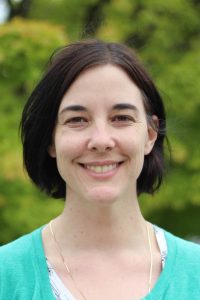 Erin Fields is a UBC Liaison & Flexible Learning Librarian and a BCcampus Research & Advocacy Fellow. Erin's innovative work is setting a new bar for how we think about open pedagogy, critical literacy, and digital scholarship. Her education and research work look at the intersections of open pedagogy and critical information skills, specifically:
How knowledge systems are constructed and made accessible in open and closed systems.
How Indigenous cultures and identities are represented on open systems like Wikipedia.
During Open Education Week 2019, Erin was part of a UBC team that organized an Indigenous Writers Wikipedia edit-a-thon to improve coverage of Indigenous writers on Wikipedia and to raise their profile. The planning group worked with Indigenous authors to guide the planning and decision-making processes and to ensure the project worked in good faith with Indigenous writers. As a result of this edit-a-thon, three new articles were added to Wikipedia.
Erin has also worked with students in the First Nations and Indigenous Studies Program at UBC to improve Wikipedia articles on Indigenous cultures and identities and has led Wikipedia edit-a-thons on art and feminism.
Erin is actively modelling how open pedagogy can engage students and expand our understanding of what authentic contribution to knowledge can look like.  She is generous with her knowledge, which she shares via workshops and events at UBC and beyond, and she is a great resource on open pedagogy projects and how to plan and lead events such as an edit-a-thon.
Notable quote:
"Erin Fields has been a leader in supporting open education at the University of British Columbia and throughout British Columbia. Erin has brought together the faculty, staff, and students at UBC to discuss the intersections between open education and critical literacy. She has led and collaborated on initiatives that brought together the community to improve the coverage of Wikipedia on Indigenous authors, and woman in science. By applying her knowledge of literacies and scholarly practice to the open space, she has engendered a richer conversation at UBC about open education and helped faculty, staff, and students understand and embrace their role as knowledge creators." – Lucas Wright, Senior Education Consultant, UBC
Learn more: