When:
May 28, 2020 @ 11:00 am – 12:00 pm
2020-05-28T11:00:00-07:00
2020-05-28T12:00:00-07:00
Note: This session has passed, please view the recording and resources below.
In 2018, Erin Fields, UBC Liaison & Flexible Learning Librarian conducted a case study on the intersections of open pedagogy and critical information literacy.  At its core, open pedagogy (OP) is teaching practices that facilitate the collaborative and transparent construction of knowledge made openly available through online communities. OP de-centers the instructor from the information expert to a facilitation role that supports student negotiation of ideas and transforms their learning into open knowledge sources (e.g. blogs, wikis, videos, etc.). With the introduction of critical information literacy to librarianship, instruction continues to teach how information is created, accessed, and used but also works to make visible the impacts of the social, political, and economic systems that influence what is created, how it is created, and how it is made accessible.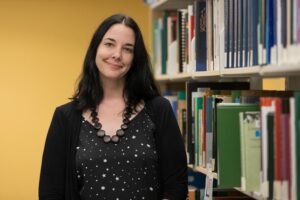 Using the lens of critical information literacy within librarianship, this session will provide examples emerging from her research of integration of critical information literacy practices within the OP classroom, the kinds of information addressed to support students in these environments, and the transformative nature of these two complementary blended instructional methods.
Suggested audience:
People interested in research on open pedagogy (OP), open education practices (OEP), open educational resources (OER), and critical information literacy
Bio:
Erin Fields is a librarian focusing on open education supports at the University of British Columbia. Erin is currently the Visiting Program Officer for Open Education for the Canadian Association of Research Libraries (CARL/ABRC). She is the recipient of a 2018 Award for Excellence in Open Education and an Open Education Advocacy and Research Fellowship with BCcampus. Erin also received recognition as a 2019 UBC Open Education Resource Champion from the UBC Alma Mater Society, the VP Academic and Provost, and UBC Library. Erin supports a number of courses engaging in open pedagogy, including those with assignments contributing to Wikipedia, developing social justice zines, reviewing case studies, and publishing student-created monographs and encyclopedic works.
Archives: