September is one of our favourite months as a new term is upon us and we have lots of things to share with you – from events to projects and guides – there is something for everyone! Read on to find out more…
Post by BCcampus' editorial team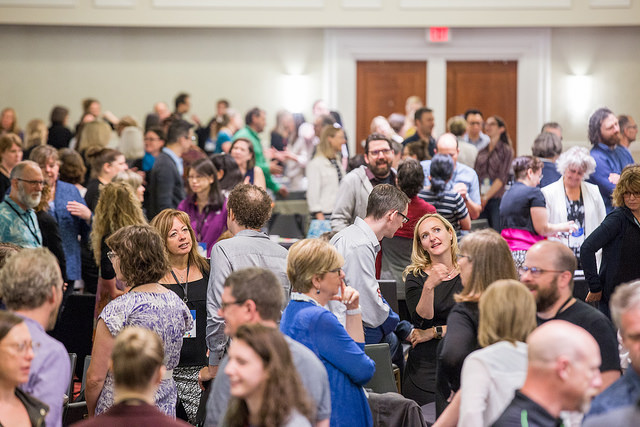 BCcampus
Since April 2018, we have been collaborating with an incredible group of contractors to develop the new look and site structure for BCcampus.ca and Open.BCcampus.ca. Thank you to all those who participated in the user testing, your time and assistance are greatly appreciated.
The new sites are set to go live this coming October, stay tuned for more information…
Collaborative Projects
Indigenization Project
We are proud to present a series of open educational resources (OER) to support post-secondary institutions as they continue the transformative work of decolonization, reconciliation, and Indigenization. Introducing Pulling Together: A Guide for Indigenization of Post-Secondary Education Institutions. Learn more…
Educational Electronic Health Record System Project
The Educational Electronic Health Record Project has been progressing through the summer with the continued collection of user stories and detailed requirements as well as the development of wireframes. Learn more… 
Early Childhood Education Standards of Practice and Occupational Competencies Project
Planning has begun on the Early Childhood Education Standards of Practice and Occupational Competencies Project (formally known as the Early Childhood Educator Entry-to-Practice Provincial Guiding Documents Project, 2016-2017). The timeline for the project is August 2018 – August 2019 with all project resources delivered by August 2019 to the Steering Committee for review and approval. More to come…
Teaching and Learning Professional Development Portal (TLPD)
Before leaving for the summer, the BCcampus project team conducted user testing of the Teaching and Learning Professional Development Portal (TLPD) with volunteers from our Advisory Group. We will use upcoming development sprints to enhance the site before the next meeting of the TLPD Advisory Group, and the B.C. Teaching and Learning Council (BCTLC) in October. Learn more…
Early Years Professional Development Web Portal Project
The Early Years Professional Development Pilot Project (EYPD) is in the final phase of its original three-year mandate to support access to and coordination of training among professionals in the early years' sector in British Columbia. Visit Early Years BC to explore professional development opportunities available by 125 organizations throughout British Columbia. Learn more…
Learning + Teaching & Educational Technology
Improving your access to learning at BCcampus events
Based on an overwhelmingly positive response to the Festival of Learning 2018 and our ongoing commitment to creating inclusive, safe, accessible learning events and environments, BCcampus will continue to provide supports like childcare, financial assistance, gender-neutral facilities, pronoun ribbons, and a code of conduct at all our events.
Learning Access Program for Educators (LAP-E) Funding
BCcampus invites you to apply for funding to attend our fall events through the LAP-E program. The deadline to apply is Sept. 17, 2018. Learn more…
Online Book Club:  How Learning Works, Sept. 10 – Nov. 12, 2018
BCcampus is pleased to offer this new, networked learning opportunity on the seminal book, How Learning Works: 7 Research-Based Principles for Smart Teaching. To learn more and get involved, visit the Book Club site, follow along on @BCcBookClub, and use the hashtag #BookClubBC. Learn more…
Facilitating Learning Online (FLO) MicroCourse: Creating & Using Rubrics, Sept. 17 – 21, 2018
MicroCourses are short, single-topic, hands-on and free. In one week, you will dip into the FLO experience, and leave with something practical and useful for your own teaching practice. Mark these dates for more upcoming MicroCourses: Oct. 29 – Nov. 1 and Nov. 26 – 30, 2018. Register now!
Facilitating Learning Online (FLO):  Fundamentals, Oct. 1 – Nov. 2, 2018
This workshop will help you enhance the skills needed to confidently and effectively facilitate online learning. Stay tuned for updates on winter/spring FLO, FDO, and MicroCourse offerings. Register now!
FLO Facilitation Guide – new this Fall! BCcampus will be releasing a guide for those keen to implement Facilitating Learning Online (FLO) courses (all openly licensed). This resource addresses the complexity and scope of the work of a facilitator, and outlines, in detail, the steps to planning and facilitating each FLO course. More to come…
2018 Symposium: Scholarly Teaching & Learning in Post-Secondary Education, Oct. 24, 2018
Join us for this annual event at SFU Harbour Centre in downtown Vancouver. We are thrilled to welcome keynote speaker Dr. Pamela Shaw. Dr. Shaw is a 3M Teaching Fellow and Vancouver Island University faculty member. We look forward to a day of sharing and reflecting on the scholarly teaching and learning work being done in B.C. Register now!
Fall ETUG Event: Just SHARE it! Nov. 2, 2018
Join the Educational Technology Users Group (ETUG) annual fall event at the brand-new Emily Carr University of Art & Design campus in Vancouver. The theme this year will be 'Just SHARE it'! Knowledge has the power to spark change, but only if it is shared! This one-day workshop will focus on a wide range of topics related to strengthening the sharing of knowledge and resources in the field of teaching and learning with educational technology. Submit a proposal and register now!
Liberating Structures, Nov. 7 & 8, 2018:  Join us for 2 days of seriously fun learning about exciting and active facilitation techniques at the Metropolitan Hotel in Vancouver on November 7 & 8. This lively immersion workshop will be facilitated by Tracy Roberts and Beth Cougler Blom. Register now!
BCcampus Ally Sandbox Pilot Project
This fall, BCcampus is coordinating the testing & piloting of Blackboard Ally with five B.C. post-secondary institutions. Ally is an accessibility plugin that works with Learning Management Systems to ensure that learning content meets accessible learning standards for students with disabilities. Learn more…
EdTech Demos
Our EdTech Demos will be returning this fall. EdTech Demos are virtual presentations designed to give you the opportunity to take a look at new and interesting educational technologies. Sign up to be notified of upcoming events.
Open Education
Adult Basic Education
In June 2018, the Ministry of Advanced Education, Skills, and Training announced that Adult Basic Education (ABE), tuition-free since September 2017, will become even more affordable with more open textbooks for students who want to complete high school, gain new skills, or access post-secondary education. Further details will emerge as BCcampus and the ABE Zed Cred Steering Committee continue to meet and work with all ABE Articulation Committees to develop the first tuition-free and course materials free degree pathway in North America. Learn more…
Zed Cred Update
This summer has been a busy one for the three institutions in B.C. working on or maintaining a Zed Cred program. Thompson Rivers University and the Justice Institute of British Columbia have been developing new open resources and adaptations. At Kwantlen Polytechnic University, students registering for the Fall 2018 semester, can now use the course attribute field to find courses that have zero-cost for textbooks. Learn more…
Support Resources
Two of BCcampus Open Ed's key resources — Accessibility Toolkit – 2nd Edition and the Pressbooks Guide — were revised, updated, and copy edited this summer, and these resources, complete with a style sheet, are now ready to use and adapt.
Hearing from YOU!
Each fall, BCcampus meets with our advisory body to work on our strategic directions and a work plan. This is one of the mechanisms we have in place to hear from the sector about barriers and opportunities that BCcampus can help add value to. We also enjoy connecting with you at events, through networking opportunities, and through provincial groups like the Deans and Directors groups and BC Association of Institutes + Universities (BCAIU), Research Universities' Council of British Columbia (RUCBC), and BC Colleges.
Be sure to keep in touch through our newsletter, social media channels, as well as in person, we'd love to hear from you!
---
Join us for an upcoming event:
---
To stay informed with BCcampus by signing up for our newsletter, visiting our calendar and following @BCcampus on Twitter.