We keep the momentum going with the announcement of the newest winner of the Award for Excellence in Open Education: Arley Cruthers, Kwantlen Polytechnic University (KPU). Please join us in congratulating Arley on being the 13th recipient of the Award for Excellence in Open Education.
Nominated by Melissa Ashman, Kwantlen Polytechnic University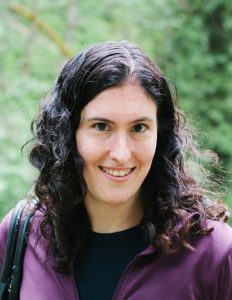 Arley is an innovative leader in the open movement at KPU and an early adopter of open pedagogy at the university, having attended the Digital Pedagogy Lab in Vancouver in 2017. In 2019, Arley published an open textbook on business writing and received grant funding to work with external collaborators to include more diverse voices in the book and to incorporate Indigenous ways of knowing and Arley uses an open-pedagogical approach to curriculum development in all courses.
Recently Arley led two classes (50 primary and secondary students total) to collaboratively research and write a report on the impact of textbook costs on students. Students then needed to remix the report into a different format for a different audience. One of the remix projects was a game to help instructors develop empathy towards students in relation to textbook costs. At the Cascadia Open Education Summit in 2019 Arley and three students presented the game and the research to an audience of educators from B.C., Washington, Oregon, and beyond. The presentation was very well-received and many took to Twitter to share that it was one of the best sessions at the conference.
Arley has inspired numerous others in the School of Business to embrace open pedagogy and open education resources, and is incredibly well-deserving of an Award for Excellence in Open Education. Arley will be presenting on the results of the research at the 2019 KPU Symposium.
Notable quote:
"Arley is a true champion of open educational practices. In addition to saving students thousands of dollars by adapting and then adopting open textbooks for Communication, Arley is an incredibly innovative instructor who has fully embraced the principles of open pedagogy. Arley's deep compassion for and unwavering commitment to students is inspiring and I am overjoyed that Arley is being recognized with this award."- Rajiv Jhangiani, Associate Vice Provost, Open Education at Kwantlen Polytechnic University
Learn more: