We are excited to take a moment to shine the spotlight on Chad Flinn, electrical and entrepreneurship instructor at the British Columbia Institute of Technology (BCIT). Please join us in congratulating Chad on being the 14th recipient of the Award for Excellence in Open Education.
Nominated by Tim Carson, Chief Instructor at BCIT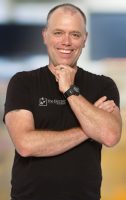 When it comes to open education in vocational training, it would be hard to find someone more influential than Chad Flinn, especially with regard to OER. Over the last year, Chad has proven his commitment to trades education and student success through his advocacy and the development of resources for the OERenvironment. Chad is making a huge impact in the world of vocational education and training.
His passion for a widespread OER movement and OER adoption is infectious. He has researched and presented on the topics of OER and open educational practices (OEP). Those who attend these presentations are introduced to a strong integration of quality, rigour, and participatory learning. Chad has done a masterful job of weaving his compassion for students and reducing barriers to their learning with a high standard of and commitment to vocational pedagogy.
Chad Flinn started his Master of Arts in Learning and Technology with Royal Roads University in April 2018, which is when he was introduced to the philosophy of open education. It is a model that resonated with him instantly. Since 2018, Chad has been extremely active in the world of open education in the trades. Chad has had the opportunity to work with BCcampus on a webinar, sharing with trades instructors the value of OER and OEP in their field. He has also organized and facilitated a workshop at BCIT on OER and the trades, as well as been invited to speak at #OER19, Cascadia Open Education Summit, OpenOregon's open education symposium, and various trades articulation committee meetings on the use of OER and OEP.
Over the past year, Chad has received three grants from BCIT and BCcampus to develop OER for electricians using the Pressbooks platform. Over the past four years, he has created tutorial videos for electrical students on a YouTube channel with over 15,000 subscribers and 800,000 views. This past year, he put the videos together with some supplementary material to offer free tutorial courses through the Thinkific platform. All content is shared with a creative commons licence. In addition, Chad is currently a consultant to eCampusOntario on their Open at Scale Trades and Apprenticeship initiative.
There is no doubt that, as he stands on the shoulders of past OER pioneers, there will be others who, in the near future, will stand on his. Please join us in congratulating Chad on his many wonderful accomplishments in OER and beyond.
Notable quote:
"Open education in the trades is just beginning, and we can guarantee that, in the near future, trades training will be both accessible and equitable because of Chad's advocacy and leadership." – Amanda Coolidge, Associate Director, Open Education, BCcampus
Learn more: