When:
January 12, 2023 – February 16, 2023
all-day
2023-01-12T00:00:00-08:00
2023-02-17T00:00:00-08:00
This six-part webinar series will review Pulling Together: A Guide for Curriculum Developers with our facilitator Tanya Ball. Whether you're an Indigenous or non-Indigenous person, through this journey you will gain insight into your own culture and background and the privileges or oppressions that have affected your life, and you will identify biases or gaps in your knowledge. You will question the pervasive dominance of Western epistemologies, pedagogies, and resources within curriculum and make space for including Indigenous ways of being that can benefit all learners. You will engage in the emotional work of confronting the trauma of colonization and building stronger relationships with Indigenous people and communities and actively participate in the hands-on work of revising your curriculum and pedagogical approaches.
The goals of this six-part webinar series include the following:
Learn the importance of Indigenous worldviews and how to incorporate them into your curriculum, teaching style, and practice.
Review ethical and relational protocols within your institutions.
Reflect on your own agency in regards to Indigenization, and take action toward systemic change in your institution.
Network with other participants in the series to share perspectives.
Overview:
This series requires a commitment of 1.5 hours of synchronous learning every Thursday for six weeks and about 30 minutes of asynchronous reading and thought outside class. We strongly advise participants to make time to attend every session in the series. Session dates, times, and topics are as follows:
Session 1: Understanding Indigenization (January 12, 2023, 10:00–11:30 a.m. PT)
Session 2: Meaningful Integration of Indigenous Epistemologies and Pedagogies (January 19, 2023, 10:00–11:30 a.m. PT)
Session 3:  Engaging with Indigenous Communities (January 26, 2023, 10:00–11:30 a.m. PT)
Session 4: Incorporating Diverse Sources of Indigenous Knowledge (February 2, 2023, 10:00–11:30 a.m. PT)
Session 5: Developing Awareness of Your Own Role in Indigenization and Reconciliation (February 9, 2023, 10:00–11:30 a.m. PT)
Session 6: Promoting Systemic Change (February 16, 2023, 10:00–11:30 a.m.)
The series will be facilitated using a variety of methods. Our guest speakers will include an Elder, members of academia, and community members. Participants will collaborate with one another in breakout rooms. Each participant will be mailed a medicine pouch kit and instructed how to assemble it during one of the synchronous sessions. This communal activity is a unique aspect of the series and provides a way for participants to hold space for themselves and their self-care during the workshop. We will also be joined by a graphic recorder, who will capture the essence of each session with a succinct visual image that will be shared with participants.
Registrations are capped at 75 participants, so please ensure you register early to attend the entire series.
The event has a total cost of $25. To ensure we have an inclusive and welcoming environment for all, we will waive fees for people in financial need. Please contact Gabrielle Lamontagne at glamontagne@bccampus.ca for more information.
Participants can access the guide for free via the BCcampus website or opt to purchase a hard copy via our open educational resources collection.
BCcampus will also host an additional two-part hands-on webinar for participants who want to put what they have learned into practice. Dates and further details to follow.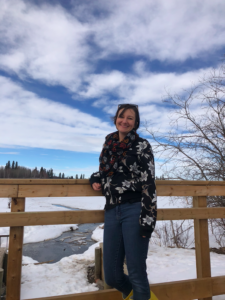 Facilitator
Tanya Ball (she/her) is a Michif woman from Winnipeg, Manitoba, in Treaty 1 Territory. She is currently living in Amiskwaciwâskahikan (Edmonton, Alberta), where she is enrolled in the PhD program with the Faculty of Native Studies at the University of Alberta. She is working with her family from St. Ambroise to research the connections between Michif storytelling and experiences of religion. She is also a sessional instructor at the School of Information Studies at the University of Alberta, teaching LIS 598 Indigenous Librarianship within a Canadian context, and a co-host for masinahikan iskwêwak: Book Women Podcast.
This notice is to inform you that this session will be recorded, archived, and made available publicly on BCcampus.ca. By participating in this session, you acknowledge that your participation in this session will be recorded and the recording will be made available openly.