We are shining the spotlight on Aran Armutlu, student engagement coordinator at Simon Fraser University! Please join us in congratulating Aran on being the 15th recipient of the Award for Excellence in Open Education.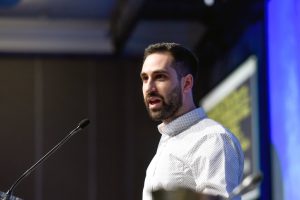 Aran Armutlu is a recent graduate from Douglas College. During his time there, Aran became an advocate for students and for accessible, affordable post-secondary education. Aran's drive to help students led to his election as a director of the Douglas Students' Union (DSU), where he developed an interest in advocating for open educational resources. While on the board of the DSU, Aran was involved in working with faculty and administration to encourage and develop strategies for the adoption and implementation of OER to replace traditional, expensive textbooks.
His passion for OER continued as he became the chairperson of the B.C. Federation of Students (BCFS), which represents over 130,000 students at 13 different colleges and universities across B.C. The BCFS advocates for high-quality, accessible public post-secondary education in the province. During his tenure as the BCFS chairperson, Aran helped create an educational campaign and facilitated workshops on student involvement in OER adoption on campuses. He also worked with students to lobby the provincial government for increased funding for OER adaptation and creation.
Aran has moved into a new role as the student engagement coordinator at Simon Fraser University, where he works with an awesome team of staff and students to develop and facilitate programming that best supports and enhances the student experience at SFU, including orientation and transition programming, leadership programs, and many other avenues in which we engage with students. We wish Aran all the best in his new endeavour and thank him for his incredible contributions in open education.
Notable Quote:
"Aran is committed to student success and improving access to post-secondary education. We are extremely grateful for his advocacy and leadership in open education and for paving the way for the future of accessible education in B.C." —Amanda Coolidge, Associate Director, Open Education
Learn more:
Previous honourees: Jennifer Kirkey, Rajiv Jhangiani, Cindy Underhill, Michael Paskevicius, Maja Krzic, Grant Potter, Irwin DeVries, Tara Robertson, Christina Hendricks, Tannis Morgan, Inba Kehoe, Diane Purvey, Erin Fields, Arley Cruthers, and Chad Flinn