The 17th recipient of the BCcampus Award for Excellence in Open Education has a long list of accomplishments both at his home institution and in the wider world of open education. Please join us in congratulating Will Engle, strategist for open education initiatives at the Centre for Teaching, Learning and Technology at the University of British Columbia.
Nominated by Christina Hendricks, Professor of Teaching, Academic Director, Centre for Teaching, Learning and Technology, University of British Columbia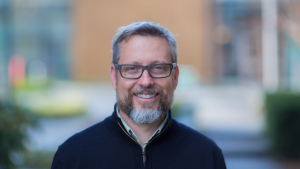 Will's work touches most every aspect of open education at UBC Vancouver. His work exemplifies and promotes the value of collaboration, including between staff, students, faculty, librarians and the bookstore. He is also a passionate advocate for students contributing to open scholarship and OER.
Will promoted the idea of students as producers long before "open pedagogy" became more prominent. He frequently invites students to collaborate on workshops and presentations on open education, and even encouraged students to run the new AMS Open Champions Celebration, insisting nominations of champions should come from students.
Vision and leadership
Will has leadership roles in the Open UBC working group, where he guides meetings and provides visionary ideas for areas of priority, and in the development and implementation of the new OER Fund at UBC. With the library, Will has also spearheaded development of an award for open work at UBC (currently in progress).
According to a colleague, Will stewarded the implementation and development of the UBC Wiki. Will has not only provided support for using the wiki in the classroom, but also created spaces, templates and tools to ensure that the wiki is easy to use for faculty, students and staff. In addition, he has led efforts to use the wiki as a tool through which content can be pulled into several WordPress sites at UBC, thereby making it so that multiple sites can be revised by editing only the wiki content.
Critical lens and focus on inclusivity
An active member of the wider open ed community, Will provided ideas for the panels Exploring Tension and Risk in Open Scholarship (2017 Open Access Week, UBC) and Open But Not Free: Invisible Labour in Open Scholarship (2018 Open Access Week, SFU). Will also adapted the BCcampus Accessibility Guide into a UBC OER Accessibility Toolkit.
Praise from Will's colleagues
"Will feels strongly about honouring students as partners and as potential public scholars, and throughout his projects, he has found ways to provide opportunities for students to play meaningful roles as authors and designers."
"Will led the creation of an inventory of open textbook adoption at UBC and the range of ways that faculty incorporate open practices in their teaching. This inventory is the gold standard for surveying open education at a complex research institution."
Learn more:
Reports on use of OER at UBC Vancouver (these were all led and written by Will, even though sometimes others have posted on the website so others' names are listed as authors)
Will has been a part of nearly all of the presentations and workshops listed on this list of Open UBC presentations (with embedded slides)
Will was a leader in the development and facilitation of the Teaching with WordPress open course that ran in 2015
Open UBC— a curated collection of resources for faculty and students to learn about open scholarship and what it means to teaching, learning, and research at UBC.
2019 Open UBC Snapshot: Significant Use and Support for Open Resources— annual report on OER and open textbook use at UBC
Previous honourees: Jennifer Kirkey, Rajiv Jhangiani, Cindy Underhill, Michael Paskevicius, Maja Krzic, Grant Potter, Irwin DeVries, Tara Robertson, Christina Hendricks, Tannis Morgan, Inba Kehoe, Diane Purvey, Erin Fields, Arley Cruthers, Chad Flinn, Aran Armutlu, and Terry Berg