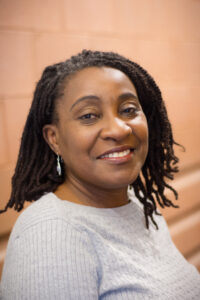 The 18th recipient of the BCcampus Award for Excellence in Open Education is Florence Daddey, a tireless advocate for open education at the Justice Institute of British Columbia (JIBC). She has adopted and adapted open textbooks for the courses she teaches and has been instrumental in weaving open education advocacy into faculty development activities at JIBC.
Nominated by Krista Lambert, Project Manager for ABE/Health Zero Textbook Cost Programs and Environmental Scan for Early Childhood Education (ECE), BCcampus
Florence was a 2018/19 BCcampus Open Education Advocacy and Research Fellow, conducting research on student savings on textbooks in the Law Enforcement Studies Diploma (LESD) program at JIBC and leading the Zero Textbook Cost (ZTC) initiative for this program.
Florence has been instrumental in establishing open education faculty development opportunities by taking the lead on the recent JIBC Open Ed Showcase, which brought together B.C. open education leaders in a conference format to share and learn about open educational practices. She has organized numerous open ed workshops and lunch and learns. In addition, she initiated and led the JIBC open education working group in 2018 and spearheaded JIBC's successful application for a BCcampus OpenEd Sustainability Grant.
As a faculty member at JIBC, Florence has adopted open textbooks in both her research methods and her project management courses. She has led research into student use of open resources and has championed student participation in workshops and presentations related to this research. Florence is also a member of the BCcampus Open Education Advisory Board, the BCcampus Advisory Committee, and the BCcampus Business ZTC Advisory Committee.
Notable quote:
"Florence leads by example in both using OER for her own teaching and conducting open research as well as tirelessly building awareness at the Institute through community building efforts such as forming an Open Education Group and organizing the JIBC Open Education Showcase." – Melanie Meyers, Open Education Advisor, BCcampus
Research
Previous honourees: Jennifer Kirkey, Rajiv Jhangiani, Cindy Underhill, Michael Paskevicius, Maja Krzic, Grant Potter, Irwin DeVries, Tara Robertson, Christina Hendricks, Tannis Morgan, Inba Kehoe, Diane Purvey, Erin Fields, Arley Cruthers, Chad Flinn, Aran Armutlu, Terry Berg, and Will Engle