This September, we are extending a warm congratulations to Ali de Haan, the latest recipient of the BCcampus Award for Excellence in Open Education!
Nominated by Lauri Aesoph, manager, open education, BCcampus
Ali de Haan wears the hats of manager of library and instructional services, Moodle administrator, and copyright and privacy officer at Acsenda School of Management. She earned her MLIS at the University of Hawaii at Manoa, where she was first introduced to open education. She has been a tireless advocate of the concept ever since. At Acsenda, she is the champion of all things open, whether it's helping faculty identify relevant open educational resources (OER) for their classes, advising leadership on open software like BigBlueButton, WordPress/Pressbooks, and H5P, or supporting faculty as they adapt and create their own OER.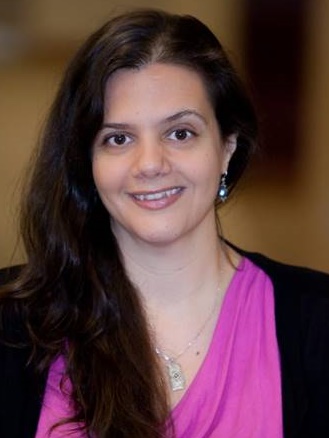 Ali's current projects include a guide for faculty on finding, adopting, and adapting open textbooks, developing an H5P workshop for faculty, and creating a mechanism for sharing OER created at Acsenda. Ali is also an active member of the BC Open Education Librarians (BCOEL), which she finds invaluable for advice and support.
Ali has over 10 years of experience in academic, public, and special libraries. Ali has developed and taught classes and workshops on APA style, research skills, information literacy, library instruction, and HTML. Ali's research interests are Romanesque pilgrimage art and history, information literacy, the cultural perceptions of librarians and how it impacts the profession, open pedagogy, and copyright.
Notable Quotes
"I started working with Ali on open education a couple of years ago, when she first began reporting faculty adoptions of open textbooks at Acsenda School of Management. Shortly after that, she became the key open education contact at Acsenda for BCcampus, as well as for instructors, staff, and students at her school who had questions. She has participated in conversations with other institutions about how international students — who make up a huge portion of the student body at Acsenda — fit into the world of open education and provided insight for the recently revised Print-on-Demand Guide."


—Lauri Aesoph, manager, open education, BCcampus
"Ali is an outstanding colleague, always boosting the role of libraries and advocating for services and systems that serve students. She also offers help to new librarians and shares information openly and with great warmth. She is a community builder, and I feel lucky to have her in our corner."


—Faith Jones, library director, Columbia College
Previous honourees:
Jennifer Kirkey, Rajiv Jhangiani, Cindy Underhill, Michael Paskevicius, Maja Krzic, Grant Potter, Irwin DeVries, Tara Robertson, Christina Hendricks, Tannis Morgan, Inba Kehoe, Diane Purvey, Erin Fields, Arley Cruthers, Chad Flinn, Aran Armutlu, Terry Berg, Will Engle, Florence Daddey, Brenda Smith, Lindsay Tripp, Mary Shier, Brad Bell, Debra Flewelling, Michelle Harrison and Sally Vinden