This October, we are happy to present the BCcampus Award for Excellence in Open Education to the University of Victoria's Dr. Sara Humphreys, a fantastic ambassador for all aspects of open education. She brings her enthusiasm for OER to her learning environments and to the way that she mentors colleagues.
Nominated by Janni Aragon, adjunct assistant professor, political science, University of Victoria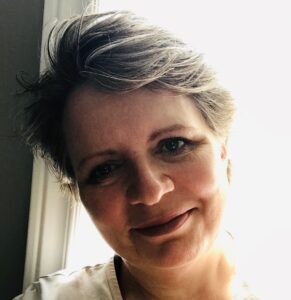 Sara is an assistant teaching professor of English at UVic. It was easy for Janni to nominate Sara, having known her for a few years and been impressed with her "Jill of All Trades" digital footprint. Sara has published two books this year, along with Why Write? A Guide for Students in Canada, an OER that Sara is currently the lead on and that is currently being beta tested. Sara and her terrific team really pushed to get it up and out by fall so students would not have to buy textbooks, particularly during a pandemic. Feedback so far is positive, with students saying that they really like the resource.
Since the pandemic began in March, Sara has worked to assist her colleagues in the humanities faculty with the pivot to online learning. Sara is a true advocate for open education for students and colleagues.
Notable quotes:
"I have deeply appreciated Sara's convictions to support online education and the use of OER in our teaching environments. Sara is amazing as a colleague, scholar, and open education advocate."

—Janni Aragon, adjunct assistant professor, Department of Political Science, University of Victoria
"Sara has shown exceptional leadership and innovation in her work on an open textbook for UVic's academic writing courses, an innovation that will support thousands of students per year. There could be no more timely work — her team accelerated this project as COVID-19 strained students' finances. She amply deserves this recognition by BCcampus."

—Dr. Lisa Surridge, associate dean academic, Faculty of Humanities, University of Victoria
Previous honourees:
Jennifer Kirkey, Rajiv Jhangiani, Cindy Underhill, Michael Paskevicius, Maja Krzic, Grant Potter, Irwin DeVries, Tara Robertson, Christina Hendricks, Tannis Morgan, Inba Kehoe, Diane Purvey, Erin Fields, Arley Cruthers, Chad Flinn, Aran Armutlu, Terry Berg, Will Engle, Florence Daddey, Brenda Smith, Lindsay Tripp, Mary Shier, Brad Bell, Debra Flewelling, Michelle Harrison, Sally Vinden and Ali de Haan