This month we are happy to present the BCcampus Award for Excellence in Open Education to Meizhong Wang, instructor at the College of New Caledonia (CNC). Meizhong's contributions to the creation of OER materials demonstrate her commitment to supporting her students.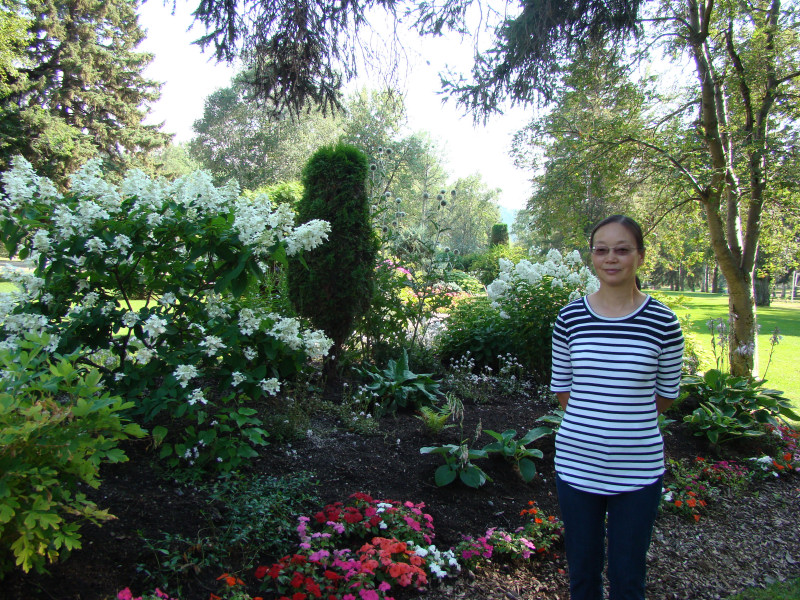 Nominated by Carolee Clyne, regional representative and open education advisor, BCcampus
Meizhong has been an instructor at CNC for 31 years. She has lectured in math, computers, physics, electronics, and more in over 30 courses in different departments (Academic Upgrading, University Transfer, Electronics, Engineering Design, and Business). In recent years she has been active on projects to create open educational resources (OER) for adult upgrading and authored books such as Key Concepts of Intermediate Level Math and the recently released Key Concepts of Computer Studies. With her diligent approach, she has contributed to the B.C. Open Textbook Collection for the benefit of many. It is for Meizhong's willingness to commit the time to author these resources that we wish to nominate her for this month's BCcampus Award for Excellence in Open Education.
Meizhong has been a prolific creator of OER for adult basic education (ABE) and adult upgrading courses. Her work is invaluable to instructors across the province.
We appreciate Meizhong's contributions and these wonderful resources for both students and faculty. Meizhong's math book is one of the most downloaded ABE resources in the BCcampus collection.
Notable quotes:
"Meizhong was part of our first group of ABE grantees and was extremely eager and thorough in creating her computer studies resource. It's clear she cares about creating quality materials for both her students and to teach with, and her willingness to share widely has been such an asset to the ABE community. We are so grateful for her contributions."

— Krista Lambert, project manager, BCcampus
"Having used Mei's Math Made Easy textbook for a number of fundamental math class settings, I look forward to using her new book that picks up where this one leaves off. Mei's experience as an instructor is very much evident in the way she presents the material. Lessons and examples are to the point – everything you need and nothing more. Mei's book is an excellent reference for students and instructors alike, and I would highly recommend picking up a copy."

– Brad Littler, math instructor, CNC
"I used the Math 030 open text (Key Concepts of Intermediate Level Math) in fall 2019. I thought this text was informative and very organized. I really liked how each chapter showed you how to get the answer and explained how to get there."

– Kamaria Dennis, one of Mei's students at CNC
Teaching has become Meizhong's favorite hobby; writing is her other hobby. She has published the following books, most of them as a direct result of her teaching experience:
Key Concepts of Computer Studies (BCcampus, Canada, 2020)
Key Concepts of Intermediate Level Math (BCcampus, Canada, 2018)
Algebra I & II – Key Concepts, Practice, and Quizzes (The Critical Thinking Co., U.S., 2013)
Math Made Easy (CNC Press, Canada, 2011, second edition 2013)
Understandable Electric Circuits (Michael Faraday House of the Institution of Engineering and Technology, U.K., 2010, second edition 2018)
Legends of Four Chinese Sages, coauthor (Lily S.S.C Literary Ltd., Canada, 2007)
简明电路基础, Chinese version of Understandable Electric Circuits (The Higher Education Press, China, 2005)
Middle School General Science: Key Concepts, Practice, and Quizzes (The Critical Thinking Co., U.S., 2021)
Previous honourees:
Jennifer Kirkey, Rajiv Jhangiani, Cindy Underhill, Michael Paskevicius, Maja Krzic, Grant Potter, Irwin DeVries, Tara Robertson, Christina Hendricks, Tannis Morgan, Inba Kehoe, Diane Purvey, Erin Fields, Arley Cruthers, Chad Flinn, Aran Armutlu, Terry Berg, Will Engle, Florence Daddey, Brenda Smith, Lindsay Tripp, Mary Shier, Brad Bell, Debra Flewelling, Michelle Harrison, Sally Vinden, Ali de Haan, Sara Humphreys, Jim Maxwell-Campagna, Andrea Niosi, Petra Menz, Nicola Mulberry, and Izabela Mazur
---
The feature image for this post (viewable in the BCcampus News section at the bottom of our homepage) is by Malte Luk from Pexels