BCcampus is pleased to present this month's Award for Excellence in Open Education to Shantel Ivits. Shantel's work on the BC Reads: Adult Literacy Fundamental English series is an exceptional example of the application of inclusiveness, diversity, and Universal Design for Learning principles. This series is highly adopted across the province and has been impactful for both learners and teachers in B.C.
Nominated by Tannis Morgan, associate vice president, Academic Innovation at Vancouver Community College
Shantel has been a champion and supporter of open educational resources (OER) for many years. In 2015 they authored the adult basic education BC Reads Adult Literacy Fundamental English OER. With considerable care and thought, they crafted resources that are inclusive, accessible, and diverse in theme and content. Shantel created six levels of fundamental readers and course packs over nine months.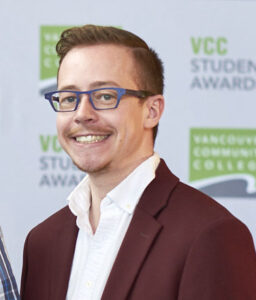 Shantel's thoughtful approach included audio files for books one and two as well as Indigenous content and themes for adult learners, like human rights in a Canadian context or neurodivergence as a gift. For the level-one reader, Shantel hired Carlee Ashton Diabo, a Kanien'kehaka artist and two-spirit student from one of their classes, to illustrate the resource. The resulting joyful and colourful illustrations bring the work to life. Shantel hired another Indigenous student to write a short story for the collection.
In a 2018 blog post titled "Teaching is not Neutral" for the Community College Consortium for OER, Shantel is quoted as saying, "I'd never encountered a literacy text with any mention of lesbian, gay, bisexual, transgender, queer, or Two Spirit (LGBTQ2S) communities until I authored a textbook series myself. I wanted my students, who also come from various marginalized identities, to see themselves reflected in these textbooks, too."
Shantel's efforts are an exceptional example of including students in the OER creation process. They are a leader in the creation of inclusive and diverse OER, and these resources are a phenomenal contribution to adult basic education in B.C. Beyond their OER creation, Shantel has supported the development and adoption of OER at Vancouver Community College.
Relevant links:
Previous honourees:
Jennifer Kirkey, Rajiv Jhangiani, Cindy Underhill, Michael Paskevicius, Maja Krzic, Grant Potter, Irwin DeVries, Tara Robertson, Christina Hendricks, Tannis Morgan, Inba Kehoe, Diane Purvey, Erin Fields,Arley Cruthers, Chad Flinn, Aran Armutlu, Terry Berg, Will Engle, Florence Daddey, Brenda Smith, Lindsay Tripp, Mary Shier, Brad Bell, Debra Flewelling, Michelle Harrison, Sally Vinden, Ali de Haan, Sara Humphreys, Jim Maxwell-Campagna, Andrea Niosi, Petra Menz, Nicola Mulberry, Izabela Mazur, Meizhong Wang, Theresa Southam, Christine Miller, Brian Coey, and Agnes d'Entremont