The BCIT Bachelor of Science in Nursing (BSN) program team has been instrumental in developing nursing open educational resources (OER), contributing to a number of OER projects over the past two years: a major textbook adaptation, four virtual simulations, and six skills videos. It is for these contributions we are pleased to present the entire department with this month's BCcampus Award for Excellence in Open Education!
Nominated by Krista Lambert, open education project manager, BCcampus
The BCIT Bachelor of Science in Nursing program has led development for nursing OER in B.C. over the past two years. With funding from BCcampus, department members have been eager and willing to take on complex and innovative projects that have been identified as needed by nursing faculty in B.C.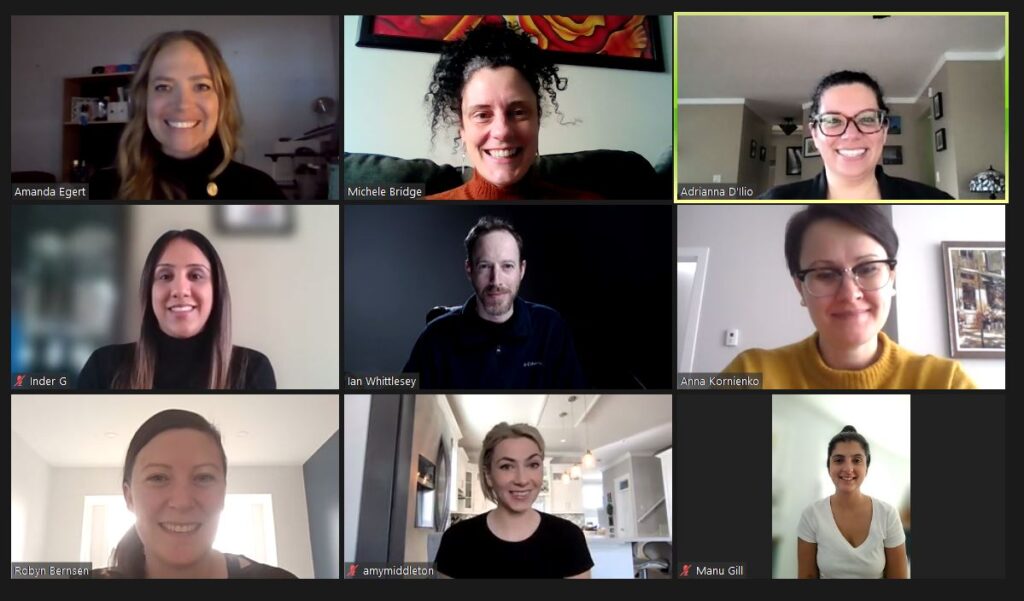 As part of the nursing skills video project, four BSN instructors developed six videos that demonstrate complex skills nursing students need to learn and practice, such as how to bathe a newborn or perform a postpartum assessment. The instructors who contributed their subject-matter expertise to these videos are Anna Kornienko, Inderdeep Grewal, Robyn Bernsen, and Amy Middleton. Indispensable to the project were two staff members from the BCIT Learning & Teaching Centre: instructional development consultant Michele Bridge, who was the project manager, and video and digital media producer Ian Whittlesey. Despite the evolving nature of COVID-19 restrictions during the project, this team managed to work within pandemic protocols to develop high-quality instructional videos that can be used throughout the province.
Another fantastic project developed by members of this program is the Nursing Virtual Case Studies collection, which consists of four virtual case studies that use interactive H5P activities. This project, led by Amanda Egert and Adrianna D'Ilio, is a resource to teach nursing students clinical decision-making and judgement. The case studies are contextualized in acute care and community settings across B.C. and were developed to be standalone, so they can be used completely independently of each other. Because these case studies are openly licensed, faculty can easily clone and adapt them to localize the examples for their learners' context.
The last project we would like to highlight is a forthcoming major adaptation of the open textbook Nursing Pharmacology, which was originally published by Chippewa Valley Technical College in Wisconsin. Manu Gill, Kimberly Lee, and Amanda Egert localized the book to a B.C. and Canadian context, including standards of practice, professional standards, laws and ethics, measurements, and generic names. In addition, the team adapted the focus of the text to be concept-based and include clinical judgement. They also created and added approximately 100 open-sourced medication cards.
We love to see a department with so many members all on the same page about open education and OER. Congratulations to all the recipients, and thank you for your amazing work!
Relevant Links:
Previous honourees:
Jennifer Kirkey, Rajiv Jhangiani, Cindy Underhill, Michael Paskevicius, Maja Krzic, Grant Potter, Irwin DeVries, Tara Robertson, Christina Hendricks, Tannis Morgan, Inba Kehoe, Diane Purvey, Erin Fields,Arley Cruthers, Chad Flinn, Aran Armutlu, Terry Berg, Will Engle, Florence Daddey, Brenda Smith, Lindsay Tripp, Mary Shier, Brad Bell, Debra Flewelling, Michelle Harrison, Sally Vinden, Ali de Haan, Sara Humphreys, Jim Maxwell-Campagna, Andrea Niosi, Petra Menz, Nicola Mulberry, Izabela Mazur, Meizhong Wang, Theresa Southam, Christine Miller, Brian Coey, Agnes d'Entremont, Shantel Ivits, and Valerie Irvine
---
The featured image for this post (viewable in the BCcampus News section at the bottom of our homepage) is by Tara Winstead from Pexels