We're excited to announce Emily Schudel as this month's recipient of the BCcampus Award for Excellence in Open Education. Emily is an instructional designer who has long been an advocate for open education at Camosun College.
Nominated by Monique Brewer, instructional designer, Camosun College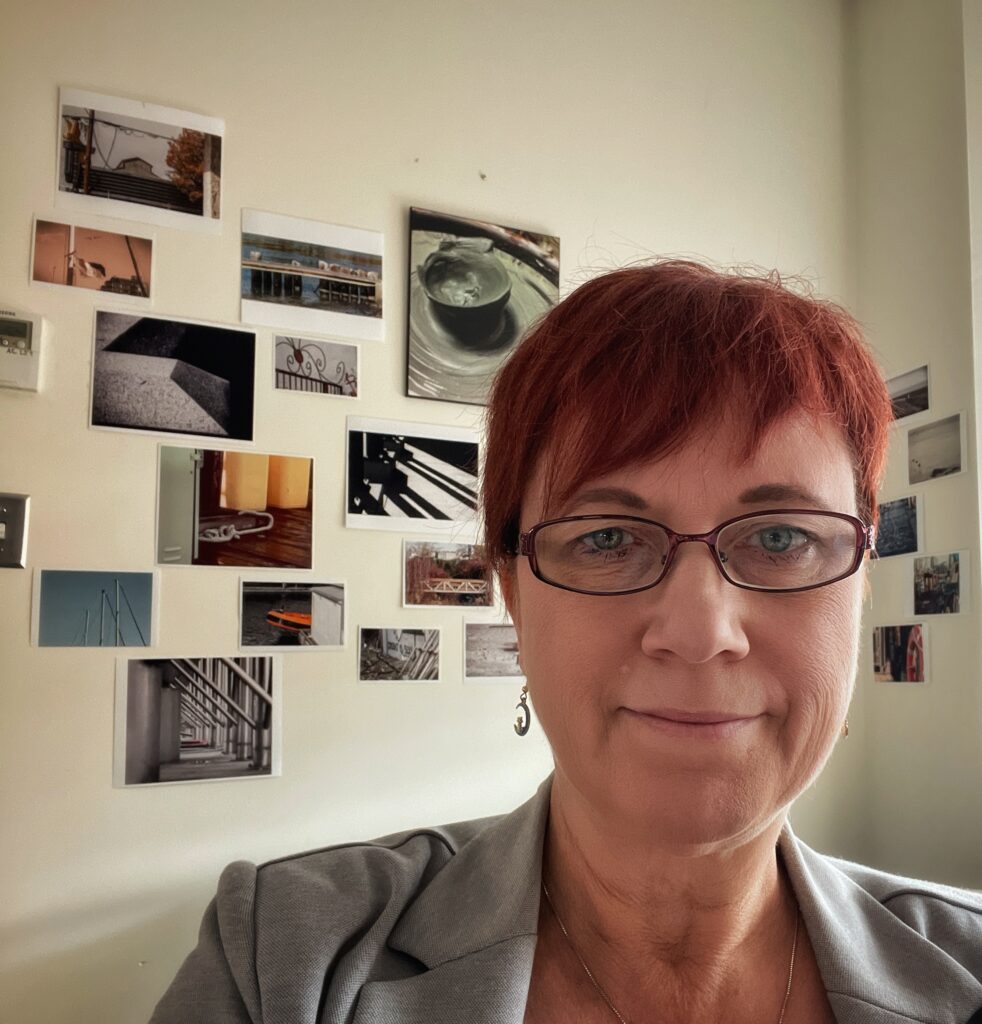 Emily Schudel's commitment to building capacity for open education at Camosun College during the COVID-19 pandemic was nothing short of inspirational. In 2020 she launched Camosun into open by partnering with the OpenETC to make WordPress available to instructors. That same year, Emily took on a project management role for a BCcampus Open Education Sustainability Grant. Over the next 24 months, she provided project management and oversight to seven projects across the College, including open textbooks on:
Emily's support for these projects included liaising with copyright experts and illustrators, facilitating training on Pressbooks, problem-solving challenging development issues, and providing moral support to authors. She met with authors individually throughout the development process and facilitated quarterly group meetings so authors could share their experiences and learn from one another.
While overseeing the sustainability grant, Emily:
Conducted a survey at Camosun to understand the strengths and challenges of open educational resources (OER)
Facilitated a Conversation Café on OER
Led numerous workshops related to open pedagogy, OER, WordPress, and creating engaging content with H5P
Additionally, Emily provided one-on-one support to faculty on all these topics to remove barriers and encourage adoption of all things open.
Emily conducted most of this work during the pandemic, when her work as an instructional designer in the eLearning unit was already incredibly busy as she helped transition many faculty to online teaching. Her many accomplishments in open education while juggling a heavy workload speak to her perseverance and dedication to the cause.
Emily has gifted the broader educational community with the openly licensed Camosun eLearning blog, where she has documented 48 powerful faculty stories about their experiences teaching and learning online during the pandemic.
In fall 2021, Emily stepped away from her position on the ETUG Stewardship Committee after a decade of service.
Notable Quotes:
"If there was a word that could sum up my impression of Emily, it is sedulous. She is always available to provide help, connect you to the right people, and boost your confidence when you need it. Thank you, Emily!"

—Puja Gupta, chair, Community Learning Partnership, Camosun College
"I have had the pleasure of working with Emily for a number of years now. Her dedication and passion surrounding open ed is contagious to say the least. She is always there to answer any questions for me, and in the rare cases when she may not have the answer, she has researched and found it. She has been a vital resource for my own work and a contributor to college wide surge of open ed 'stuff,' as she calls it. She is a well-deserving recipient of the BCcampus Award for Excellence in Open Education."

—Brian Coey, program leader/instructor, Sheet Metal and Metal Fabrication, Camosun College
"Emily's passion and commitment to open education is contagious. As a new term instructor, Emily inspired me to approach the design and delivery of my courses through the lens of my students. She helped me understand my responsibility to students. Together we removed barriers I didn't even know existed and worked to increase accessibility for all students in the broadest sense of the word. Each assignment I design, I hear Emily's voice encouraging me to think of all my students and how I can create a meaningful and lasting experience that's available to all of them. She coached me how to give students in my courses a voice, so they could be a part of the process. And throughout this journey, Emily's unassuming nature and massive heart created a safe space for me to ask questions and explore what open education meant for me. Emily is my super hero, and with her at the helm guiding us through open education, I have no doubt the world of post-secondary will be in good hands and forever changed. Thank you from the bottom of my heart, Em — you've made me not only a better instructor but a better person!"

—Kristina Andrew, instructor, Psychology, Camosun College
"Emily is an incredibly hardworking and dependable team player who never wavered in her support for my open education project. Thank goodness, or I don't think I would have finished!"

—Michelle Clement, instructor, Marketing, Camosun College
Relevant Links:
Previous Honourees:
Jennifer Kirkey, Rajiv Jhangiani, Cindy Underhill, Michael Paskevicius, Maja Krzic, Grant Potter, Irwin DeVries, Tara Robertson, Christina Hendricks, Tannis Morgan, Inba Kehoe, Diane Purvey, Erin Fields,Arley Cruthers, Chad Flinn, Aran Armutlu, Terry Berg, Will Engle, Florence Daddey, Brenda Smith, Lindsay Tripp, Mary Shier, Brad Bell, Debra Flewelling, Michelle Harrison, Sally Vinden, Ali de Haan, Sara Humphreys, Jim Maxwell-Campagna, Andrea Niosi, Petra Menz, Nicola Mulberry, Izabela Mazur, Meizhong Wang, Theresa Southam, Christine Miller, Brian Coey, Agnes d'Entremont, Shantel Ivits, Valerie Irvine, the BCIT BSN Program, Linda Woodcock, and Hope Power
---
The featured image for this post (viewable in the BCcampus News section at the bottom of our homepage) is by energepic.com