Recognizing excellence
We are proud to have the opportunity to work with creative minds and passionate educators, and while we can't recognize everyone for their brilliance, here are a few examples of stars shining brightly in the educational communities of British Columbia.
BCcampus 'Hey, You're Pretty Fantastic' Award
This award is an opportunity to recognize and appreciate the folks we work with for their outstanding commitment to our vision and values.
Nearly every month, a candidate is nominated, then everyone chimes in with what they appreciate about that individual.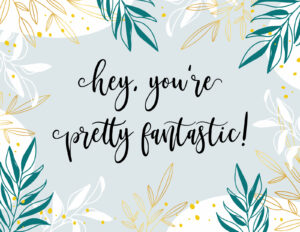 February 2023 – Moira Hall
January 2023 – Paula Gaube and Kelsey Kilbey
December 2022 – All BCcampus
October/November 2022 – Kemal Tunador
August/September 2022 – Harper Friedman
July 2022 – Mary Burgess
June 2022 – Selina McGinnis
May 2022 – Jaime Caldwell
April 2022 – Kaitlyn Zheng
March 2022 – Katheryna Khong
February 2022 – Amanda Coolidge
October 2021 – Mirjam van Hasselt
September 2021 – Jonathan Orr
July/August 2021 – George Meyer
June 2021 – Leva Lee
May 2021 – Arianna Cheveldave
April 2021 – Kelsey Kilbey
March 2021 – Helena Prins
February 2021 – Josie Gray
January 2021 – Alex Paredes
December 2020 – All BCcampus
November 2020 – Christy Foote
October 2020 – Declan Robinson Spence
September 2020 – Erin Beattie
June 2020 – Paula Gaube
May 2020 – Corinne Litchfield
April 2020 – Krista Lambert
March 2020 – Rebecca Shortt
February 2020 – Corey Ranger
Whether it was for their demonstrated leadership skills, development of quality OER, ongoing advocacy, or scholarly research, the following individuals were nominated and selected for their contribution to open education:
2022
2021
2020
2019
2018
2017
We select one winner every other month, so please nominate someone you know for the work they're doing in open education.
Accepted with gratitude
We don't do what we do for the recognition and awards – but we're immensely grateful for the following honours:
2021
Open Education Global's Open Education Awards for Excellence: Open Pedagogy Award. Awarded for our Open Education Challenge Series, this award is presented to an innovative open teaching practice that incorporates openness in several levels of the learning processes. Engaging not only in the production, use and reuse of content but also promoting effective open teaching practices.
2018
SPARC Innovator Award – We were recognized for our dedication to the open agenda by this global coalition committed to making open the default for research and education.
2016
Open Education Excellence Award – The Open Education Consortium recognized BCcampus for Creative Innovation for the B.C. Open Textbook Accessibility Kit, an essential resource developed through a collaboration between BCcampus, CAPER-BC, and Sue Doner at Camosun College.
2015
Open Education Award for Excellence – Creative Innovation – "This award reinforces our philosophy and confirms we're moving in the right direction to provide Open Educational Resources to learners in B.C. and around the world." – Mary Burgess, BCcampus Executive Director.
2014
Premier's Award for Public Service Excellence – The BC Open Textbook Project was a regional finalist in the Organizational Excellence category for promoting innovation and excellence for the communities of B.C.
CIHR Partnership Award – A partnership between BCcampus and the WITS anti-bullying program resulted in recognition for collaboration among teachers, students, parents, law enforcement, and other strategic partners.